Niki de Saint Phalle
Neuilly-sur-Seine 1930 - San Diego/Kalifornien 2002


Born at Neuilly-sur-Seine in 1930, the painter and sculptor Niki de Saint Phalle grew up in New York. At only eighteen she married the US writer Harry Matthews. After their divorce she lived with sculptor Jean Tinguely from 1960, through him she became a member of the Paris group of artists who called themselves "Nouveaux Réalistes".
In their group exhibition Niki presented her "rifle-shot" paintings for the first time: Niki de Saint Phalle used a gun to shoot paint balls at a canvas primed to a pastose texture using a surfacing mixture. Upon impact the paint balls burst and colored the relief. The aggressive act of shooting helped her to come to terms with the troubled relationship she had with her father. It was however her Nanas, the first of which emerged in 1964, that made Niki de Saint Phalle famous.
The buxom, colorful female figures, first made of wool, yarn, paper-maché and wire scaffoldings and later made of polyester, are to be understood as happy, freed women and harbingers of a new matriarchic age. Nanas can for example be found at the banks of the river Leine in Hanover, where the artist had one of her first spectacular solo exhibitions.
Niki's biggest project was the "Tarot Garden" she began to work on in Tuscany in 1979. This garden stretches over an entire landscape and has accessible Nanas.
In 1988 Niki de Saint Phalle designed the world-famous "Stravinsky Fountain" at the "Centre Georges Pompidou" together with Tinguely. From the 1950s Niki de Saint Phalle has shown her work at numerous international exhibitions and became known as the artist who introduced the determinant theme of the female life principle to art history. In 1994 Niki de Saint Phalle moved to California on her doctor's advice to benefit from the mild climate. There she worked on her last large series of works, a playful hommage to Tinguely's movable sculptures, the "Exploding Pictures".
Niki de Saint Phalle died of emphysema on May 22, 2002 as a consequence of years of inhaling toxic polyester fumes while working on her art projects. Posthumously the artist's success continues. In 2003 her former colleauges completed and inaugurated her Baroque grotto in the "Herrenhäuser Gärten" in Hanover, a brilliantly colorful, glittering work of art composed of glass mosaics, stones and figures.

Andy Warhol
Flowers
199,800 $
Details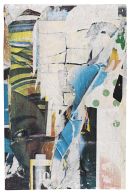 Mimmo Rotella
La nera
19,980 $
Details

Tom Wesselmann
Monica with Cézanne
12,210 $
Details